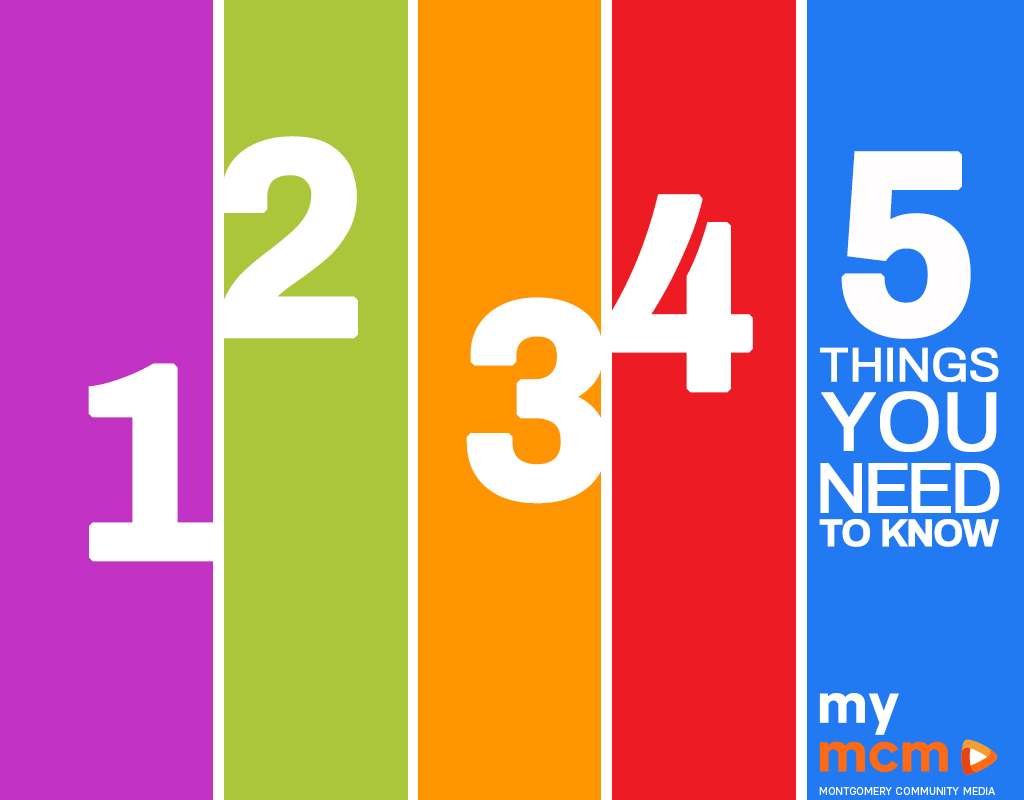 5 things to know today, February 28, in Montgomery County
Today is Monday, February 28, and here are five things to know in Montgomery County.
1. Board press briefing: Council Chairman Gabe Albornoz will hold a press briefing today at 11.45 a.m. provide updates on public health and discuss various issues before Council. The briefing will be broadcast on the The Council's Facebook page here.
2. Municipal Monday: The Mayor and Council of Gaithersburg are having a virtual business meeting tonight at 7:30 p.m. agenda and information package are displayed. The Mayor and Council of Rockville are meeting virtually at 7 p.m. with the agenda posted.
3. Conversation with the public safety community: Upcounty's Citizen Advisory Council is meeting virtually tonight at 7 p.m. The public is invited to attend the meeting. Police Chief Marcus Jones will lead a community conversation about public safety in the area.
Please attend the Upcounty Citizen Advisory Committee Conversation on Public Safety!! pic.twitter.com/o2kvgjK2D9

— Sidney Katz (@MC_Council_Katz) February 22, 2022
4. The future of affordable housing: The League of Women Voter's is hosting a virtual county affordable housing roundtable tonight at 7 p.m.
Are you registered for next Monday #TrendingTopicsLWV online seminar #Event? register here #today! https://t.co/FuoZAF1qxe pic.twitter.com/vmol7rBUJF

— The League of Women Voters of Montgomery County MD (@MoCoMDLWV) February 23, 2022
5. Metro SmartTrip Cards: SmarTrip cards purchased before 2012 expire on Tuesday, March 1.
Old SmarTrip cards will expire in March
And as a reminder to our loyal readers…Find the latest coronavirus updates in Montgomery County here.
For the latest news and happenings in Montgomery County, stay with MyMCMedia. We hope you will also follow MyMCMedia on Facebook, Twitter and instagram.