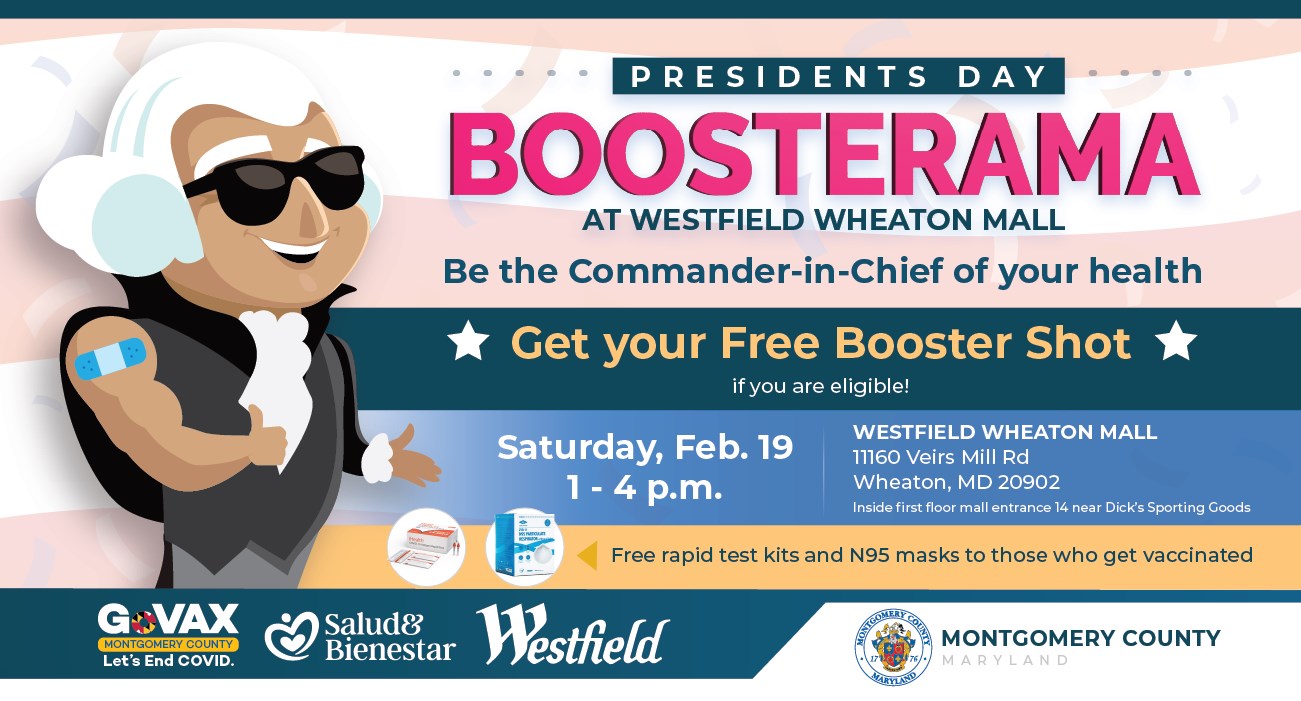 Montgomery County Maryland

For immediate release: Thursday, February 10, 2022
Montgomery County, in partnership with Por Nuestra Salud y Bienestar and Westfield Wheaton, will once again host a "Boosterama" event on Saturday, February 19, from 1 to 4 p.m., at the Westfield Wheaton Mall at 11160 Veirs Mill Rd. in Wheaton. The Boosterama is a county effort to increase the number of people with boosters by bringing the vaccine to places like malls and other public places that are more convenient for residents. Early doses for adults and children 12 and older will also be available. No appointment is necessary. Pediatric doses will not be administered during this event.
The event will take place at mall entrance 14, first floor, near DICK'S Sporting Goods. Eight people who receive their booster or first dose of vaccination at the event will be randomly selected to receive a $25 gift card to use at Westfield Wheaton's wide variety of retailers. Free rapid test kits and N95 masks will be provided to those vaccinated.
"While about half of our eligible population has received reminders, we are seeing a slowdown in the number of eligible people receiving reminders," said Montgomery County Executive Marc Elrich. "There is a clear correlation between being vaccinated and the reduced impact of severe COVID-19 symptoms. The main thing is that the vaccines work. Please don't delay in getting this extra protection if you still need your booster and are eligible.
The Boosterama is part of a larger county effort to maintain its strong herd immunity, especially after the increase in cases in recent months due to the Omicron variant. According to the Centers for Disease Control and Prevention, 84% of Montgomery County residents are fully immunized and 95% have received at least one dose. While vaccinations provide robust immunity against COVID-19, boosters have been shown to create longer-lasting protection against the virus, especially as new variants continue to circulate in the United States.
To date, more than 407,600 booster doses have been administered at county-run vaccination clinics. While that number represents more than 20% of all boosters given statewide, it's only about half of booster-eligible residents who received one. If it's been at least five months since you received your second Pfizer or Moderna vaccine, or if it's been two months since you received the Johnson & Johnson vaccine, you are eligible for a booster shot.
In addition to the Saturday Boosterama, vaccination or booster shots are widely available at community locations. Make an appointment for a booster shot or find other places to GoVaxMoco.com. For more information on Por Nuestra Salud Y Bienestar, visit https://www.lhiinfo.org/saludybienestar/.
# # #
Build ID: 22-102

Media Contact: Scott Peterson, 240-855-8462
Categories: COVID-19