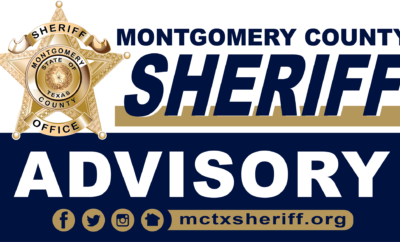 Montgomery County sheriff investigates shooting in the woods
News
By Montgomery County Sheriff's Office |

On March 22, 2022, at approximately 1:45 p.m., deputies from the Montgomery County Sheriff's Office were dispatched to the Sawmill Apartments located at 1481 Sawdust Road, The Woodlands, in reference to a disturbance.
When deputies arrived, they learned that domestic violence had occurred inside the flat and that a man had been shot by a woman. Deputies entered the flat and administered first aid to the man who was later transported to a nearby hospital and is in a stable condition. The female actor in this incident is known and has been interviewed by detectives. Detectives were unable to interview the man who was shot as he was undergoing medical treatment. At this time, there is no reason to believe that anyone else is involved or that there is any danger to the public.
The circumstances surrounding the shooting are still being investigated by detectives from the Montgomery County Sheriff's Office Homicide and Violent Crime Unit, as well as investigators from the Crime Lab and the District Attorney's Office. district. No arrests have been made at this time.
Source: Lt. Scott Spencer, Montgomery County Sheriff's Office, Administrative Services