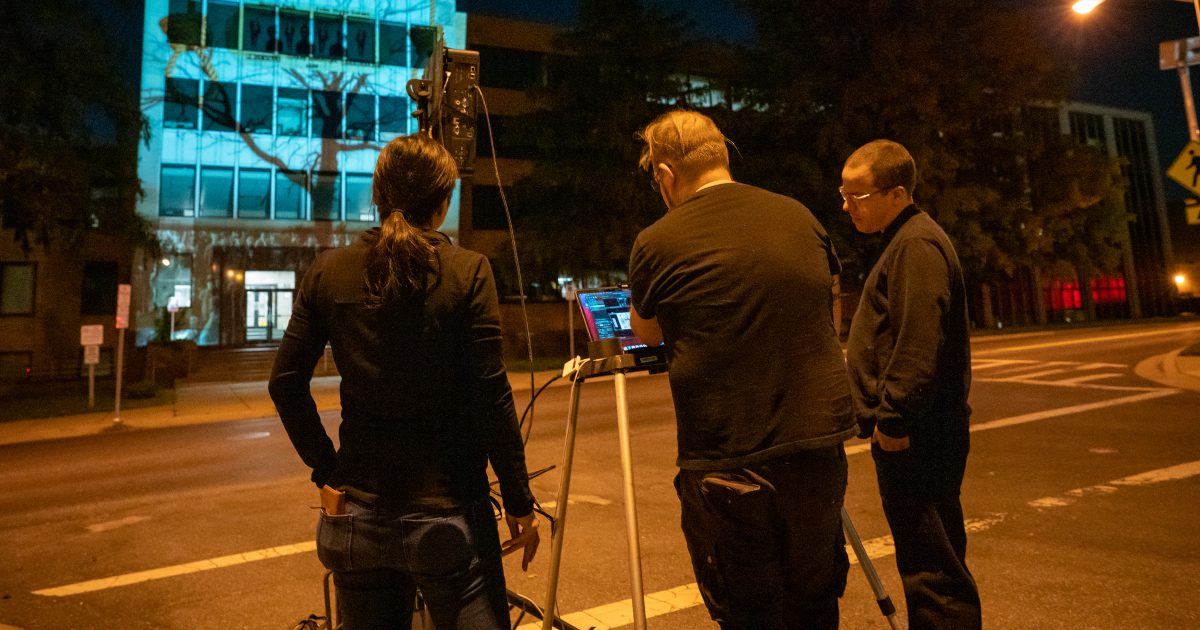 Public art in downtown Rockville focuses on lynchings in the county's past
During the month of November, the Montgomery County Remembrance and Reconciliation Commission urges residents to reflect on the county's past, including the fact that at least three men were lynched here in the late 1800s.
As part of the commemoration, six works of art will be screened on eight buildings in downtown Rockville. The locations are close enough for spectators to take a walking tour of the Eight. Part or parts unknown will be posted on November 5 and 6.
The six artists were tasked with creating a temporary multimedia public art exhibit designed to advance conversations about racial justice and were to focus on the racial lynchings of John Diggs-Dorsey, Sidney Randolph and George Peck.
Curtis Woody, of Upper Marlboro, created an article that includes newspaper articles and advertisements dealing with the lynching. His piece centers on a large tree and hands, which he believes could be the hands of lynched people or the black community in general. Actual knots and faces appear upward and are not emphasized.
While researching the topic, Woody said, "I was amazed at how there was kind of a picnic atmosphere, women and children to come. It was just awful.
He wants the people who watch the gigantic projections to take the time to think. "When I do my job, I hope people will watch it and think, then read the story. Maybe somehow my work will contribute to the way they treat others, "he said upon seeing his work for the first time projected on the county council building. on Maryland Avenue during a workout.
Suzan Jenkins, CEO of the Montgomery County Council for the Arts and Humanities, who coordinated the project, is a member of the County Remembrance and Reconciliation Commission. She explained that the idea of ​​the commemoration in November is to help people examine the subject as well as Rockville's place in history.
The other artists are Nikki Brooks, Tim Davis, Alix Lambert, Liz Miller and LaShell Rivers.
Photos courtesy of André Chung