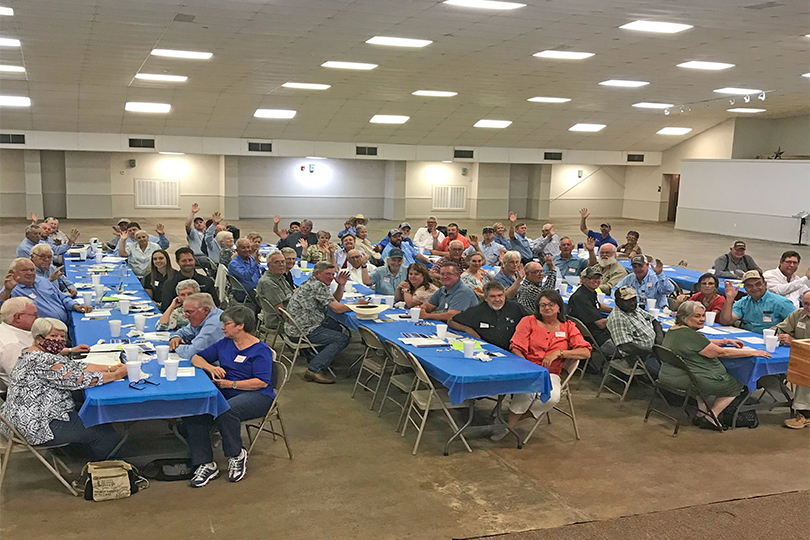 Texas Farm Bureau members discuss political resolutions
By Julie Tomascik
Editor
Livestock markets, property taxes, foreign ownership of farmland, and President Biden's tax proposals were among the topics discussed at Texas Farm Bureau (TFB) policy development meetings across the state.
Policy development meetings are part of the process of creating the organization's roadmap for the coming year, allowing members to surface and discuss potential policy changes.
"Policy making is how members speak out through the Farm Bureau on issues that affect the farm, ranch and rural way of life," said Brant Wilbourn, Associate Director of TFB, Commodities and regulatory activities. "As a local organization, Farm Bureau policy begins with our members, and their policies guide the state and the national organization. "
About 700 county leaders representing nearly 150 counties attended the district meetings.
Many discussions focused on the beef supply chain and livestock markets.
The disruption began in the summer of 2019 when a fire broke out at a large Kansas beef packing plant, shutting down production for weeks. The COVID-19 pandemic began a few months later and the cyberattack on JBS in 2021 all exposed the industry's reliance on a consolidated beef packaging system across the United States.
These interruptions in supply and production at livestock processing plants resulted in large differences in the value of livestock compared to beef.
"Price transparency and bidding on ready-to-market cattle are high on the list of priorities for members across the state," Wilbourn said. "Low ranching calf prices, combined with record margins between packers' beef sales and their live cattle purchase prices, have been the driving force behind the scrutiny of the cattle and beef markets over the years. last two years. "
Landowners noted that property taxes continue to rise and stressed the importance of maintaining the valuation of agricultural use.
"Property taxes and agricultural use valuation were brought up at almost every district meeting," Wilbourn said. "The members want to ensure that the valuation of agricultural use continues for production agriculture. Otherwise, market value taxes would have a drastic impact on the bottom line of farms and ranches. "
Foreign ownership of agricultural land continues to grow. A recent report on foreign farmland from the United States Department of Agriculture (USDA) shows that China owns about 192,000 acres, or $ 1.9 billion in US farmland.
Landowners in other countries also have a significant stake in American farmland. At the end of 2019, USDA data showed that 35 million acres, or 1.5% of all U.S. land, was owned by foreign interests.
"Members shared their concerns about the increasing number of acres purchased by foreign countries and investors, such as China, and their ability to participate in USDA programs," Wilbourn said. "They noted that food production is a national security issue, and foreign ownership of land can impact this."
President Joe Biden's plans to raise capital gains and inheritance taxes, as well as to repeal the grossed-up base, have caught the attention of rural Texas.
TFB already has a policy to repeal inheritance taxes and protect the strengthened base, but additional emphasis has been placed on the subject in meetings due to Biden's current proposals.
"Any change in capital gains tax policy that eliminates or reduces the enhanced base could result in a massive tax burden on the agricultural sector," he said. "The value of farms and ranches is tied to land, livestock and equipment, and increased taxes on farmers and ranchers will have a significant impact on an already volatile industry."
Other policy topics discussed were crop insurance, renewable energy production – wind and solar leases, trade and agricultural labor, among others.
"There was some really good discussion on a wide range of issues," Wilbourn said. "Our policy book serves as a guide for Farm Bureau, and members are committed to ensuring we cover topics relevant to agriculture today and tomorrow."
The county agricultural offices must submit to the state office the policy resolutions that were passed at their annual meeting by October 22.
National and national policy proposals approved by the county agricultural offices will be considered by the TFB Resolutions Committee in November.
The committee's recommendations will then be forwarded to the TFB annual meeting in December for consideration by the voting delegates.